Se eu já adorava ler os textos do Brandon Stanton, o jornalista que faz o Humans of New York, e eencomendei o livro via Amazon, agora estou entregue à leitura da versão Humans of New York Refugee Stories, que começa assim:
For ten days in September, I travelled to Greece, Hungary, Croatia, and Austria to learn the stories of refugees traveling across Europe. These are some of the stories I learned…
I want to begin this refugee series with a post from the summer of 2014. This is Muhammad, who I first met last year in Iraqi Kurdistan. At the time, he had just fled the war in Syria and was working as a clerk at my hotel. When war broke out, he'd been studying English Literature at the University of Damascus, so his English was nearly perfect. He agreed to work as my interpreter and we spent several days interviewing refugees who were fleeing the advance of ISIS. As is evident from the quote below, I left Muhammad with the expectation that he'd soon be traveling to the United Kingdom with fake papers. I am retelling the story because I have just now reconnected with Muhammad. He will be working again as my interpreter for the next ten days. But the story he told me of what happened since we last met is tragic.
Deve sentir-se profundamente realizado, quem faz disto profissão.
We were at Spielfeld in the Austrian border with Slovenia, distributing warm clothes and food. I was delighted with the smile of the little kids who felt warmer that night. Then, I noticed this family, they seem lost and don't know where to go. They wanted to go to Sweden, but they don't know how. The young man who is leading the family is only 22 years old, his name is Hussam, and they are from Syria. His father was hanged by Asad's regime in Syria and he fled with his mother, sister and two brothers. With little English, he explained to us that he was told to go back to the main refugees' camp and wait for a bus. That bus had left long time ago. It was cold and about to rain. The main camp is far away, the two scheduled buses had left earlier and no bus is coming tonight. I felt that I need to help this family but how? Looking at the sky and their lost, tired eyes, I felt that I have a decision to make. They are coming home with me tonight. Then a chill ran into my spine with a voice in my head warning me, I might be making a grave mistake that I will regret later. What my partner will say if I bring them to our new home? What my neighbors will say when they see them entering my house? However, I shook my fear off and I decided to follow my guts, I will take them home, at least we all will be in a warm place to think clearly. I told Hussam, "I don't know how I can help you, but would you like to come home with us?" He spoke to his family and they agreed to come with us. My friend Nathalie Moser and I took the mother and the sister to my home, while my sister, Barbara stayed with Hussam and his brothers at the border till I returned with the car and took Barbara, Hussam and the other brothers in a second trip to my home. At home, my two sons played with the two little brothers, they connect immediately kids need no language to understand each other. My partner Robert welcomed them and talked to Hussam and they started to get to know each other, while I sat with the women and we had tea. Later we did their laundry together and the 5 of them had a hot bath and fresh towels. At the kitchen table, we had dinner, we talked a lot and laughed a lot. Even the broken English didn't limit our human exchange. When hearts talk, no words are necessary. Later at night, I turned my sons room into a bedroom, with 5 mattresses on the floor, my guests had a fresh comfy beds and a warm place to sleep after 6 weeks on the road. I wished them good night and closed the door. I smiled to myself when I remembered that little voice in my head, which told me that I will regret my decision to take them home. In contrary to my fears, I had the best human experience ever, we laughed and had a good time, they touched my soul and let me feel that I am part of something bigger than myself, even with a tiny role, I participated in history tonight. Early in the morning, they woke up, we had breakfast together, and then we drove them to the train station, where they will continue their journey to Germany and from there to Sweden. I couldn't hold my tears when we said goodbye. I wish them the best in life and I hope they reach their destination safely. What I have learned from my experience is this: The fear I felt at the border when I was debating myself about wherever I take Hussam's family to my home or not, was not my fear. It is the other people fear created by the media narrative and politicians talk. Nothing scary about Hussam's family. They are nice decent human beings who are courageous enough to endure extraordinary circumstances, most of us can never cope with. I have nothing but respect and admiration of them.
This story by Evi Süss, she is from Leibnitz, Austria. She volunteers and helps the refugees at the Austrian border with Slovenia, with her sister Barbara, a photographer and yoga teacher, and their friend Nathalie Moser. Date: October 25, 2015 Photos: Barbara Süss: http://bit.ly/1WiJJG0
A Clara Ferreira Alves tem a capacidade - que muito lhe agradeço - de às vezes me aviar valentes murraças no estômago. No passado sábado, aconteceu outra vez.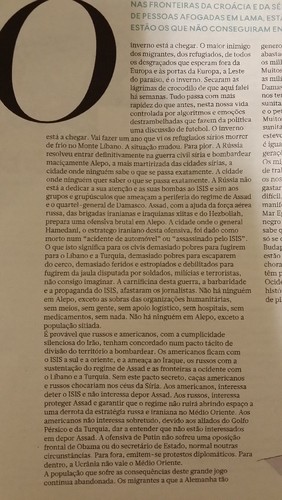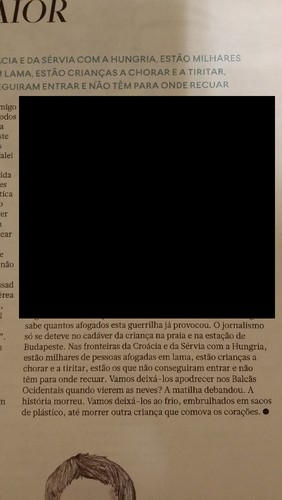 (Como não me parece muito correcto pespegar aqui um artigo que ainda não está disponível online, a não ser para assinantes, resolvi a questão de consciência cortando uma parte. O pedaço visível dá para perceber perfeitamente qual é o assunto da crónica)